Rima Rao, fourth-year student of Symbiosis Institute of Design emerged the winner in User Interface Design Category at Pune Design Festival (PDF).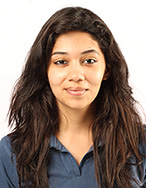 Rima Rao - 4th year student of SID
An interactive Kindle application made for storytelling, connecting and sharing, this was a college assignment given to Rima Rao in August last year to select a set of users, find something the group faces issues with and provide a solution for it. "I selected my target group of elderly people, and observed that they all complain about feeling lonely," says Rao, adding: "My aim was to make something that is beneficial for them, but this app can be used by everyone." Rima's application allows Kindle users to write down anything they feel and share it. While inputing can be done only on Kindle through the app, the content can be viewed from any device. "I selected the input source to be Kindle because it is easy to use and gives the feeling of handling a newspaper, which is convenient for senior citizens," says the youngster. Rao plans to approach developers to work on fine tuning the application, before approaching Amazon with the finished product.
Creative director and CEO, Fractalink Design Studio and judge in the user interface design category, Tanay Kumar says, "I judged Nectere on research, visual design, innovation and presentation. I particularly liked her idea of how the app looked technology friendly with less clutter and big font size. I also liked the idea of connecting the older generation with the younger generation."