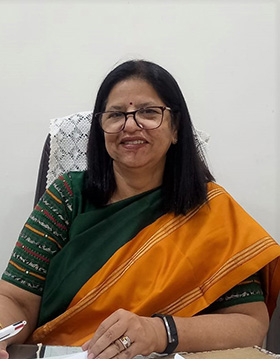 Prof. (Dr.) Anjali Karolia
Prof. (Dr.) Anjali Karolia, Dean Faculty of Family and Community Sciences, The Maharaja Sayajirao University of Baroda, Vadodara. She was former Head, Department of Clothing and Textiles, She is presently also the Past President of the Home Science Association of India. She has over 38 years of research and teaching experience and has received a total of 8 fellowships and awards during her illustrious career. She was also the Coordinator of the UGC DRS SAP programme of the department of Clothing and Textiles. She was a founder member in setting up of the Institute of Fashion Technology at the Maharaja Sayajirao University of Baroda and worked with the department to develop the curriculum and infrastructure for three degree programmes, several post graduate diplomas and certificate programmes. The institute at present has strength of 250 students.
She has been the recipient of Fulbright-Nehru Visiting Lecturer fellowship in 2010 and was affiliated to Department of Textiles, Apparel and Design, University of Nebraska, Lincoln for a semester and was the primary Instructor for a graduate course 'Indian Textiles and Costumes – Perspectives and Potential'. She has completed a project on documentation of the 'Hand crafted Textiles of Gujarat" with the Heritage trust which was funded by the Ministry of Textiles (Handlooms). She also has to her credit a UGC major research project on minor fibers and a project on Utilization of Banana fibers with NABARD. She has also received the Maharaja Sayajirao University' of Baroda Recognition award for being amongst the pioneers of copyrighting and patenting design studies guided under her.
She is a member of many professional organizations like Textile Society of America, American Association of Chemists and Colorists, Indian Science Congress, Textile Association of India etc.
She is a keen researcher and has guided number of Ph.Ds and over 50 masters dissertations. She has over 75 research papers published in International and National research journal of repute to her credit. She has travelled widely and delivered a number of talks and presented a number of papers and held exhibitions in different forums, departments and museums in India and abroad, on Dyeing and Printing, Value addition and Product Diversification and Traditional textiles and costumes. She has been on the Board of Studies, Research committees and Advisory boards of a number of Universities – to name a few - University of Mumbai, University of Rajasthan, Avinashlingam University for Women Coimbatore, IIS Jaipur, SNDT, Mumbai, SOFT Pune, Symbiosis University Pune , Dayalbagh Educational Institute Agra, Sardar Patel University Vidhyanagar, Indira Gandhi National Open University (IGNOU). She is also a NAAC team member and on the UGC expert panel for Innovative schemes, DRS SAP and major and minor research projects. She is also on the review panel for evaluation of applications for various programmes/fellowships/ scholarships and grants for Shastri Indo-Canadian Institute and United States-India Educational Foundation (USIEF).
---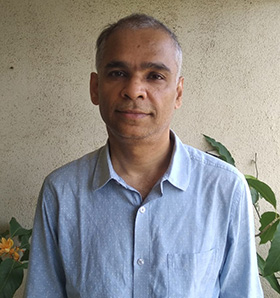 Anirudha Joshi is professor in the interaction design stream in the IDC School of Design, IIT Bombay, India. He is a part of the "Interaction Design for Indian Needs" group in IDC, which has been exploring designs of interactive products for emergent users in developing countries. The group aims to solve some age-old problems by leveraging new technologies.
The group has worked in diverse domains including healthcare, literacy, Indian language text input, banking, education, accessibility, industrial equipment, and packaging. Anirudha is active with HCI communities in India and outside. He has played various roles in India HCI, INTERACT, CHI, Mobile HCI, IUI, NordiCHI, British HCI, Compass, ICTD and similar conferences.
---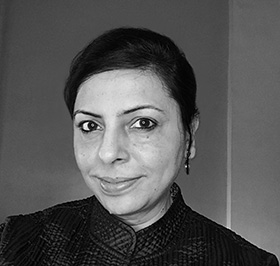 A 1989 graduate of National Institute of Design, Ahmedabad, Ashwini is co-founder of Elephant Design, India's largest independent integrated design consultancy, with offices in India & Singapore.
Ashwini leads Branding & Communication Design at Elephant. She has been part of the award-winning work done by the Elephant team for global brands in diverse segments. Some of the awards include Global ReBrand 100 (USA) & Worldstar (Germany) and Best of the Best at CII Design Excellence. She has been jury at prestigious national & international events, such as the Cannes Lions (France) & Design for Asia (HK). Ashwini was Jury President at the D&AD Awards in London and also served on the jury of New York Festival Awards, The One Show (USA) & Pentawards London. She will be Jury President at London International Awards 2021.
She was invited by the prestigious Rockefeller Foundation to participate in Global Social Impact workshop and by Danish Design Association to form the Copenhagen Co-creation Manifesto. She has lectured across more than 20 countries including ICOGRADA Design Week, Business of Design Week and International Design Congress. As a key member of The Design Alliance Asia consortium, Ashwini has collaborated on prestigious international projects including Colours of Asia Research project. Ashwini is co-founder of The Collective, an initiative by women creative leaders to create safe work-places for women. She has been speaking on gender & inclusivity at various platforms, and is an advocate for gender sensitization in design. Her work has been recognized on several notable platforms: Impact Magazine has featured Ashwini among 50 Most Influential Women in Media for six consecutive years and she is on Campaign India's A-List. Ashwini mentors start-ups through the "Nurture" initiative of TiE - The Indus Entrepreneurs. She is part of several advisory boards of design including IIT Guwahati & SPPU (Pune University) and regularly conducts mentorship programmes for design students.
---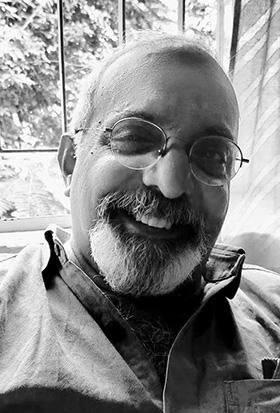 Proponent of the Strategic use of Design for the larger good.
Founder Partner of the erstwhile Studio Korjan, Ahmedabad, Dinesh is one of the pioneers of Product Design practice in India. Currently his passion is in the use of Design to solve larger, real world problems. He considers a systems approach will enhance the effectiveness of Design and will lead to transformative interventions. He complements his practice with active engagement in academics. He is a Visiting Professor at Industrial Design Centre (IDC), IIT Bombay and teaches at many leading design schools as well, including National Institute of Design (NID) Ahmedabad, National Institute of Design (NID) Haryana, Faculty of Design, CEPT University Ahmedabad, Institute of Design, Nirma University, Ahmedabad, Srishti School of Art Design & Technology Bangalore, Indian Institute of Crafts & Design, Jaipur, NIFT Gandhinagar. He has been involved in conceptualising (InDes) The School of Integral Design as a founding member. Dinesh believes that Design is finally about making new connections.
---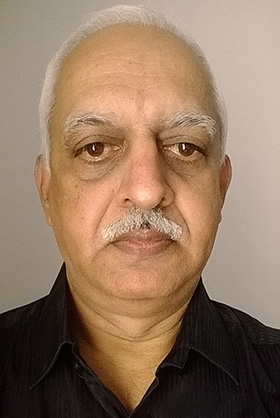 Prof. Ravi Mokashi Punekar
Prof. Ravi Mokashi Punekar is currently a Senior Professor at the Department of Design, IIT Guwahati. He joined the Department of Design, IIT Guwahati in 2001 and has been actively involved in design education in their undergraduate , postgraduate Design programs; and Doctoral research programs'. He has more than 35 years of experience in Design education, Design Research and Product Design and Development activities. He has to his credit research and development projects undertaken for Indian industry including Colgate Palmolive, Cable Corporation of India and Indian Railways and government departments including KVIC, Indian Army, National Crafts Museum among others. As Project lead he was engaged in developing online Digital Learning content on Design in India for the MHRD sponsored, NMEICT project 'D'Source- E-kalpa'(www.dsource.in) undertaken jointly with IDC School of Design, IIT Bombay and NID, Bangalore (http://www.dsource.in). As the Indian partner institute, he and his colleagues have recently completed the international project on Design for Sustainability -'Learning Network on Sustainability - International. (LeNS International' lead by Politechnico-di-Milano, Italy (http://www.lens-international.org/).
In addition he has held responsible administrative positions at IIT Guwahati as Dean (Alumni and External Relations) 2015-'18; Vice-President,, Heritage Network 2017-'18, Associate Dean (Student Affairs') 2002-'05; Head of the Department of Design 2005-'09. He was earlier Senior Designer in the Faculty of Industrial Design at the National Institute of Design in between 1986-2001 and held position as the Chairman, Faculty of Industrial Design between 1993-'98. He is a member of the board of academic studies for four leading Design institutions.
---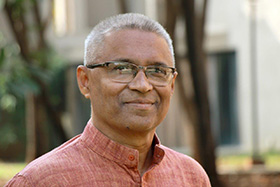 Dr. Vinod Vidwans is currently a Professor at the FLAME University, Pune. He was the Chair of FLAME School of Fine and Performing Arts previously. Before joining FLAME University, he was a Senior Designer (Professor) and an Ex-Vice Chairman (Research) at National Institute of Design (NID), Ahmedabad. He also headed the Departments of New Media and Software User Interface Design at NID. He has been a visiting faculty & resource person at many prestigious institutes including IIM Ahmedabad, IIT Kanpur, Indian Institute of Science Bangalore and Central University of Hyderabad.
Currently he is engaged in research on AI and Indian Music. He has designed and developed a Creative Intelligent System for Indian Music. The software generates a Bandish (a musical composition) on its own without any human assistance in a given Raga and renders it in traditional classical Indian style. The creative software system uses principles of artificial intelligence (AI).
Information is available on following web links: http://computationalmusic.com/
YouTube Channel: Indian AI Music Video presentations of Artificial Intelligence (AI) generated compositions of Indian Raga Music
He carries more than twenty years of professional and research experience. While working in the industry, he designed and developed a multimedia CD ROM on computer literacy program titled `COMPLIT'. Presently this program is acquired by Govt. of Maharashtra (Maharashtra Knowledge Corporation Ltd.) and renamed as MS-CIT and has now more than five million users.
Dr. Vidwans is a cognitive philosopher, a designer and a portrait painter. He has done his Ph. D in Cognitive Philosophy and Master of Design from Indian Institute of Technology, Powai, Mumbai. His doctoral work postulates a paradigm called `Design Intelligence' and characterizes creativity from a holistic perspective. He holds a Post-Graduate Degree in Fine Arts from Nagpur University where he topped. He is a recipient of Junior Research Fellowship in Fine Arts from University Grants Commission (UGC), India.
He was invited to contribute a chapter in an international publication titled `Educating artists for the future' (Ed.) Mel Alexenberg. The book was published by Intellect Books, UK in May 2008.
NCERT invited Dr. Vidwans to become a member of the curriculum development committee for Graphic Design. Under this assignment he has contributed in writing a text book on Graphic Design for Standard XI and Standard XII. Recently, he has been invited by Indira Gandhi National Open University (IGNOU), New Delhi, as a member of the Board of Studies for School of Visual & Performing Arts as well as an advisor of the Doctoral Program.
Dr. Vidwans is a dedicated Teacher, Researcher, and Designer with substantial managerial experience in the industry.