The Baluchari Saree is synonymous with "Intricacy", is a well known weave from West Bengal.
Interior Space Design student Esha Mondal (batch 2016-20) unveiled the importance of showcasing this craft through her store "Manasi" which gives a platform to Baluchari Sarees in the bigger market.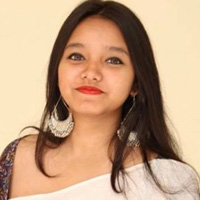 Esha Mondal
The space design created by her gives an essence of traditional & homely ambience to the customer. The store display & experience promotes the Indian Crafts to the customers.