ShilpKatha is not just an event by SID, it is also a mélange of the culmination of the crafts studied by the students. ShilpKatha is a tradition that we have been following since the year 2008; This is an exploration of a single distinctive idea that began with the solitary purpose of craft documentation. The event this year pans our journey throughout the country in the form of an exhibition along with the crafts mela and demonstration of crafts by the experts who hold this heritage and also an extravaganza of the cultural eve. The Craftsmen's who helped us get acquainted to the marvels of our country have been specially invited for the event to not just exhibit their products but also demonstrate and brief us all about the nuances of these crafts.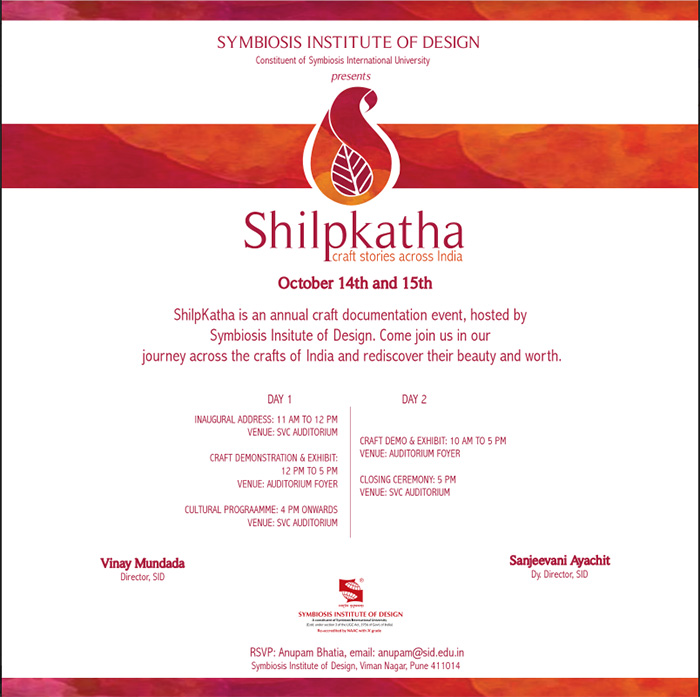 The two day annual Craft Sustenance initiative "Shilpkatha" has institutional objective of conserving and bringing about a product diversification of heritage Indian crafts. Students from all the four disciplines i.e. Communication Design, Industrial Design, Fashion Design and Fashion Communication visited Maharashtra, Himachal Pradesh, Gujarat, Uttar Pradesh, Punjab, Madhya Pradesh etc. and explored the various crafts practiced in those regions. The crafts that have been studied this year by the students are- Pochampalli, Golabaama, Chettinat Saree, Nettipattom, Ikat, Dhol, Kolhapuri, Kalamkari, Phulkari, copper work, Baagh, Vardaman, blockprint and the list is endless.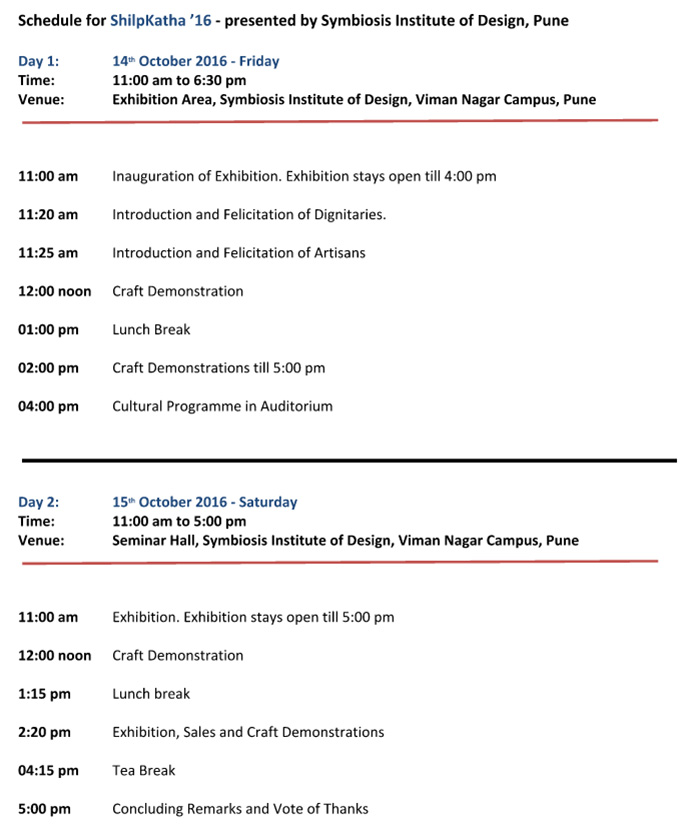 Apart from the exhibition showcasing the process panels, garments and promotional collaterals developed, using the crafts studied by the students, you all shall also experience the textile and non-textile crafts like- Paithani, Ajrakh, Bamboo, Sandalwood, Dhokra etc. by the artisans in the craft bazaar laid down in the atrium.
The learning never ends and when it comes straight from the artisans who hold this as heritage. During the two days you shall experience the demonstration of crafts -Channapatna toys, paithani, ajrakh, pochampally, dhokra, sandalwood, bamboo and tambat by the artisans. And what better and beautiful end to the day with the extravagant of a musical evening by artists Mr.Gurunandan performing the Yakshagana and Ms. Meera Das performing Odissi.
ShilpKatha 2016 in Sakal Times